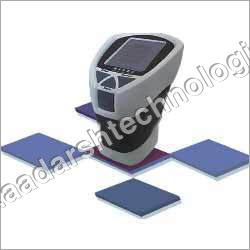 Precision Colorimeter
Product Description
Our focus on providing quality products has enabled us to manufacture and supply an exclusive range of Precision Colorimeter. The equipment is wide used in paint, dye, plastic and textile industries for analyzing color. Equipped with the latest LED light source and sensor, our colorimeter is highly demanded in the market. To manufacture the equipments, we use premium quality materials and components, which we source from the most authentic vendors. We offer our Precision Colorimeter to the clients at the pocket friendly prices.
Features:
Minimal maintenance requirements
Unmatchable performance
Compactly designed
Further Details:

Our Precision Colorimeter array is extensively used for color analysis and controlling. It is applied to paints, plastic, plating, printing, textiles, design, and dyeing industries. This is developed keeping in mind the exact demands of the sphere, thus, the entire Precision Colorimeter array is widely cherished among the users.

Features:

Our offered assortment is hugely in demand due to is easy usage, minimal maintenance requirements, reliability, unmatchable performance, seamless quality, longer functional life, etc.
Technical Standards:
Repeatability of 0.08 (Average value of standard white Tile for 10 times)
Geometry: 8/d(8* Falloff/diffuse reflection) SCI/SCE
Aperture: 8mm
Light source: Halogen Lamp
Inspection angle: 10x Angle of view in CIE
Illuminants: D65, D50, F11
Storage: 12 groups of standard and 30 groups of samples under each standard
Display: Lxaxb, LxCxh, chroma values and E (Lxaxb,), E (LxCxh) color difference values
Technical Parameters
Illuminating/Viewing Geometry
8/d
Measuring Aperture
Φ 8mm / Φ 4mm
Detector
Silicon photoelectric diode
Color Space
CIEL*loa*b*C*h* &CIEL*a*b*; CIEXYZ; CIERGB; CIEL*u*v*; CIEL*C*h, Yellowness & Whiteness; Color Fastness
Color Difference Formula
ΔE*a b; Δ L*a*b*; Δ E*C*h*; Δ ECIE94; ΔE hunter
Light Source
D65; D60; A
Light Source Device
LED blue light excitation
Errors Between Each Equipment
≤0.40ΔE*a b
Storage
100pcs standards; 20000pcs samples
Repeatability
Standard deviation within ΔE* a b 0.06 (Average of 30 measurements of standard white plate)
Language
English/Chinese
Weight
500g
Dimension
205 X 70 X 100 mm
Power source
Rechargeable lithium–ion battery 3.7V@3200mAh
Lamp Life
5 years, more than 1.6 million measurements
Charging Time
8 hours– –100% electricity
Measuring Times Before Recharging
3000 times in 8 hours
Operating Environment
-10~40ºÇ, relative humidity 0~85% with no condensation
PC Software
CQCS3 Software
Data Interface
USB
Extended Aperture (Optional)
Φ8mm extended aperture, available for measuring concave surface
Printer(Optional)
Miniature thermal printer