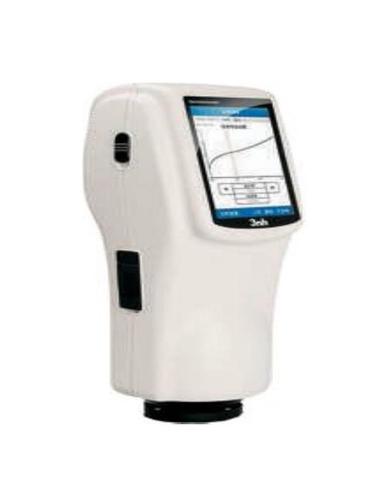 UV Spectrophotometer
Product Description
To achieve total quality control at every stage, we are engaged in manufacturing and supplying a quality range of
UV Spectrophotometer.
To design these equipments, we use high quality components and materials, obtained from reputed vendors. The equipment is used to measure qualitative and quantitative analysis in biochemical industry, pharmaceutical production sector and food industry. We can make the
Spectrophotometer
available for the clients in different models and specifications as per their requirements.
UV Spectrophotometer Features:
High measurement precision
Have a long operational life
Easy to use
Further Details:

Enriched with veteran professionals and their vast industrial experience, we are engaged in providing Spectrophotometer assortment at most affordable prices. It is manufactured using high quality raw materials, which are obtained from our certified vendors of the domain. Owing to all, our offered Spectrophotometer array is extensively applauded and demanded among the customers.

Features :

Due to durability, reliability, seamless performance high in demand.
Easy to use, maintain and have a long operational life.
Technical Detail:
Color Space : CIE LABXYZ Yxy LCh CIE LUV LAB&WI&YI
Color diff. Formula:ΔEab, ΔEuv, ΔE94, ΔE cmc2:1,ΔE*cmc1:1, ΔEcmcl:c, CIE2000ΔE00 ΔEh
Other Chromaticity Data : WI(ASTM E313 CIE/ISO, AATCC, Hunter), YI(ASTM D1925 ASTM 313), TI(ASTM E313 CIE/ISO), Metamerism Index (Mt), Color Stain, Color Fastness
Observer : 2°/10°
Illuminant : D65 A,C,D50 D55 D75 F1 F2 CWF F3 F4 F5 F6 F7DLF F8 F9 F10 TPL5 F11 TL84 ,F12 TL83/U30
Display Data : Spectral Value/Graph, Colorimetric Value, Color Difference Value/Graph, PASS/FAIL Result, Color Offset, Color Simulation, color index setting ΔE94, ΔE cmc, ΔE2000), tolerance prompt, reverse prompt, time setting, language setting, restore factory setting
Repeatability : Spectral Reflectance standard deviation within 0.1% 400~700nm: within 0.2% Colorimetric Value Standard deviation within Delta Eab 0.04 Measurement conditions: white calibration plate measured 30 times at 5 seconds intervals after white calibration was performed.
Standard Accessory: Power Adapter, Li-ion Battery, Operating Instruction, CD-ROM (containing management software), Data Line, White and Black Calibration Cavity, Protective Cover and Wrist Strap
Optional Accessory : Universal Test Components, Micro Printer, Special test box for powder
Others : Provide complete spectrum reflectance curve, Input L, a, b value manually
Product Details:
| | |
| --- | --- |
| Brand | Aadarsh |
| Wavelength Range | 400-700 nm |
| Wavelength Interval | 10 nm |
| Measuring Aperture | 8 mm |
| Reflectance Range | 0-200 per |
| Illumination | 45 Deg /0 Deg - 45 ring-shaped illumination, vertical viewing |
| Integrating Sphere Size | 58 mm |
| Sensor | Silicon Photodiode Array |
| Measurement Time | 1.5s |
| Battery | Li-ion battery 5000 times within 8 hours |
| Lamp Life | 5 years, more than 1.6 million measurements |
| Display Screen | TFT 3.5 inch, Capacitive Touch Screen |
| Interface | USB/RS-232 |
| Data Memory | 1,000 Standards, 15,000 Samples |
| Dimensions | 90X77X230 mm |
| Weight | 600 g |
| Light Source | Combined LED Sources |